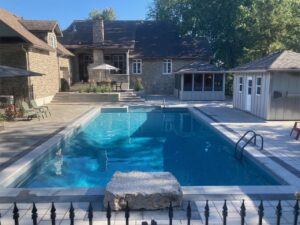 We would like to acknowledge the entire Pool Builders team for their excellent service. From our first meeting with you (Dominic), everyone who works for Pool Builders and all of your activities have been first rate. It is not surprising that you have a great reputation. Please extend our thanks to everyone.
— John and Joanne, 2023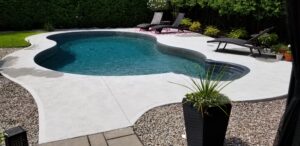 Bonjour Dominic,
Je tenais à prendre quelque instants pour te remercier de tes précieux conseils quant au choix des matériaux pour notre piscine. Le look est spectaculaire (j'exagère juste un peu) et nous en sommes très satisfait. Merci beaucoup pour tout et je te souhaite un excellent été 2021!
— Line et Claude, 2020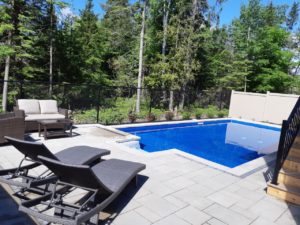 Absolutely amazing. The Pool Builders team is second to none. From the very first meeting with Dominic, to the install, and the ongoing support from Shannelle. They are clearly a family operation that cares about what they do and client satisfaction. They are clean, professional, and were easy to work with for us and other trades (landscaping companies). We cannot say enough good things and have recommended to several people and will continue to do so. Thank you for giving us our dream backyard.
— Chris and Mandy Karadakis, 2019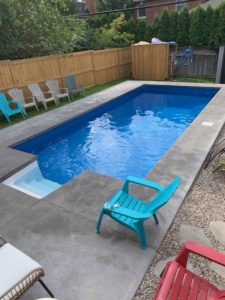 Pool builders was amazing to work with. We started off the process and planning with Dominic. He was excellent at walking us through everything and answering all our questions. Shanelle's management of the project was outstanding. She responded to all my questions immediately and with patience. We would definitely recommend working with Pool Builder to anyone who is ready to take the plunge.
— Carli and Carlos, 2019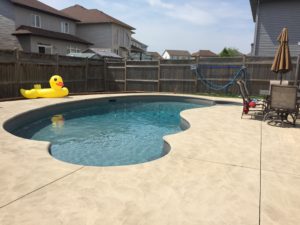 Not only did Pool Builders give us amazing service before and during the planning and installation of our pool, but they have also continued to go above and beyond for us well after the install was complete. From prompt communication to exceptional customer service we are beyond happy with them and would highly recommend them to anyone thinking of putting a pool in. Thank you, Pool Builders, for everything you've done for us.
Pool Builders gave us an amazing pool then continued to go above and beyond for us in term of their post-installation services. Would recommend to anyone looking to have a pool installed.
— Mandy & Mike D'Aloisio, Stittsville 3 years later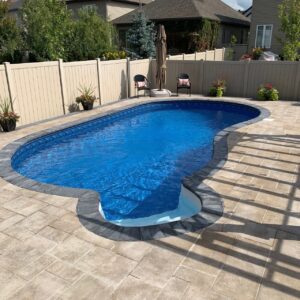 We would highly recommend Pool Builders. Our entire experience has been very positive from the sale, to install and follow up. Everyone is friendly and helpful. If they could only extend the Summer I'd give them 6 stars!! Thanks, Pool Builders!!
— Jeff Milbury, 2019
Good morning Shanelle / Dominic,
My wife and I wanted to reach out to you both (and hopefully you can pass this message along to the rest of the company, especially your father) to thank you for the amazing service you have provided.
We would like to thank everyone at Pool Builders for the amazing job you all have done in giving us our backyard oasis. Everyone was extremely friendly and provided the best customer service throughout the whole process. Your professionalism was greatly appreciated and trust me when I say that we will be passing along how great of an organization Pool Builders is and will be recommending you to anyone who is in the market for a pool.
Good luck with the remainder of the summer installs and we'll be in touch to schedule our closing of the pool in the fall. Thanks again so very much,
— The Revill Family, Stittsville 2019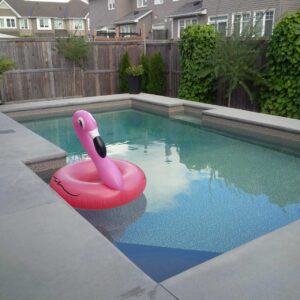 We have nothing but great things to say about this family-owned business. We had our pool installed last summer and the best decision about getting a pool was hiring pool builders! Dom is the best, Shanelle was a pleasure. Everyone else in between were pleasant and hard working. Highly recommend.
— Sarra Getty, 2018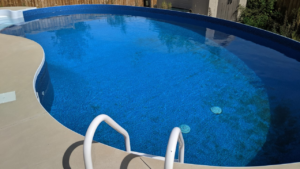 In one word "AWESOME" great service and finished product. Above expectation .. You can tell it's a family run business with pride in their work and service... Bravo Pool Builders.
— Salvatore, Stittsville 2018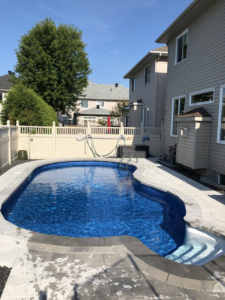 We had pool builders install our pool. We are 100% happy with the decision we made to have a pool installed and can not be any happier with the support we received from Pool Builders. When we hear someone asking for pool company recommendations, we are quick to recommend Pool Builders. Thank you for making our experience seamless. Such and amazing team.
— Moreau family, 2018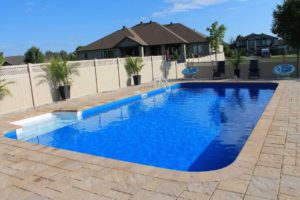 Installing a pool... where to start?
It's not really an easy task if you've never done it before. You ask opinions, you get advice, you search for reviews on the internet and then it's time to make a decision, and hope it's the correct one!
The most important piece of the puzzle is deciding who will install that new pool that your family will enjoy every summer, and how will you get the right company to get the job done without any delays or hassles?
Getting quotes is easy, you tell them what you want and they give you a quote on what it's going to cost overall without knowing who will actually do the work and will it get done?
Our experience was interesting...We had already received 3 quotes and weren't ready to make our decision as of yet, but when a friend mentioned "Pool Builders", (we never heard of this company which is located in Ottawa's west end in Stittsville,) but "never hurts to get one more quote.."
Enter Shanelle, who became part of the family within the first 5 minutes of being in our home.. not rushing to give us information, not pushing us to make a decision and ensuring all of our questions were being answered (not to mention talking to our kids as if she was part of the family and letting them be part of the decision process) that in itself played a big role in our decision.. contract signed that visit!
But it didn't end there.. then we find out that Pool builders is family owned and operated, from Shanelle for sales, to her dad Bob who excavated the project, to her brother Justin who installed the pool and to another brother Dominic who walked us thru the operation of the pool, no subcontractors to deal with, just a family helping another family make a dream become reality.
From start to finish Pool builders was there.. we never had to wonder if and when they would show up, they got the job done! They worked side by side with our landscapers to ensure that there were no surprises and the project moved forward to a quick
completion.
But it didn't end there.. if you've never owned a pool before, you have questions that need to be answered, the unknown is nerve racking! Not with Pool Builders, every phone call or message was answered, every email responded to and if required a visit to our home, to ensure we were comfortable and had everything under control. This in itself provided the peace of mind that made our dream project so easy, and Pool Builders made it reality.
Pool Builders made us feel more than just a customer, they made us part of the family, they don't stop until you're happy, they make the experience seamless and always go the extra distance to ensure quality.
Needless to say that Pool Builders made our Pool building experience a positive one, and there is no question that when family, friends, and or neighbours ask "who installed our pool?", we would hands down refer and recommend Pool Builders for all of their pool needs.
— The Di Nardo Family, Manotick 2018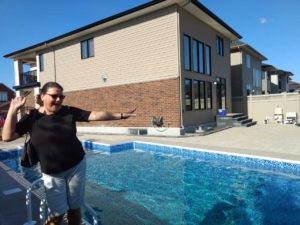 We've already said this to Dominic and Shanelle, but praise is never enough: It was really a fantastic experience working with Pool Builders, always very professional, always on schedule, always ready to help... We've already recommended Pool Builders to several friends who are also considering installing a pool :)
— Irena and Vladimir Mijavec, Kanata 2018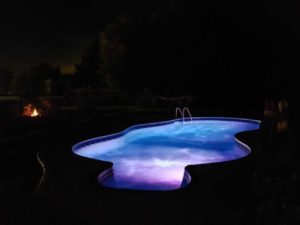 Pool Builders went beyond our expectations in every aspect of our pool installation. From the beginning, when we weren't sure what we wanted, to the very end with finishing touches and the included pool closing, they were all extremely helpful, professional, and responsive. When we first contacted Pool Builders, we were also getting quotes from other companies. Beyond the fantastic price and incentives, Dominic made us feel comfortable to make our own decisions, there was no pressure felt by us, and yet he provided his professional opinion obtained from his years in the family business to guide us to the pool of our dreams. Pool Builders were extremely flexible with the install, as my husband, a licences electrician, was doing the wiring himself as well as the fence, and a friend was doing the gas hook ups. They were accommodating to our slightly altered schedule, and still managed to get everything done before our first pool party! I was very impressed by the little amount of disruption or damage to our yard, and the employees of Pool Builders were always professional and considerate of our property. They advised us on the placement of the pool in our yard and all applicable bylaws, and they took care of all the 'extra' issues like permits and locates for gas and electrical lines. Shanelle was very helpful and always quick to respond to an inquiry, and provided no-pressure options along the way for our consideration.
I wouldn't hesitate to recommend Pool Builders to anyone (and have already done so on a number of occasions). We are beyond happy with our choice in Pool Builders, as they helped give us the backyard of our dreams!
— Alicia & Mark, Richmond 2018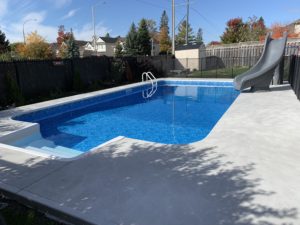 We are so happy with our in-ground pool from Pool builders!! We were so exited throughout the process and no matter what our questions were, Pool Builders always answered our questions. From the beginning of the project to the final touches, our backyard transformed into a dream backyard where we can spend quality family time.
— The Jung Family, Kanata, 2018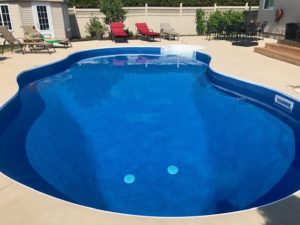 This past July, my wife and I made the absolute right decision to have Pool Builders Ltd. come in, help design and install our in-ground pool. The weather couldn't have been better rain wise as there was very little but the heat was extraordinary to say the least. That being said, they worked through it and within 12 days, we were literally swimming!!! Cannot wait to get a full summer out of it next year! From Dominic to Shanelle and the work crew, it all just fell into place nicely....
Thank you Pool Builders, years to come of outdoor fun, no more sitting around the house during those HOT days, we'll be in the pool!!
— Joe & Anne, Stittsville 2018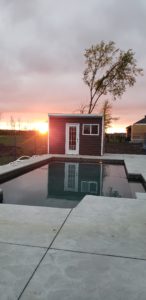 Pool Builders were great from day one and the staff was awesome to deal with. I got a beautiful custom-built inground pool installed when I purchased my new house. Got the required chemicals to open the pool in the spring and the pool has been zero maintenance since. Would highly recommend!
— Derek Amelotte, 2018
We had a great experience with Pool Builders and have a beautiful pool to enjoy year after year. This is a family run business and is one of the reasons why we chose them. They provided a proper itemized quote and offered competitive pricing. The quality of the build and pool equipment is great, we are happy with the features we chose. We especially like being able to turn the pool heater on from our phones at work, knowing we will swim when we get home. Pool Builders definitely went above and beyond for us to create the perfect pool to suit our family and needs. We highly recommend Pool Builders!!!!!
— Sandra Weppler, 2018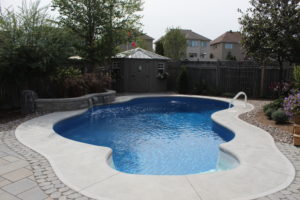 We had such a great experience with Pool Builders. From our first contact with project manager Shanelle, to our quote/plan with Dominic and then to Bob and the crew, it was a pleasure to deal with the whole Grandmaison family. The job was done on budget and on time. Knowledgeable, hardworking and conscientious. We would highly recommend Pool Builders to anyone.
— Virginia & Joe, Stittsville 2017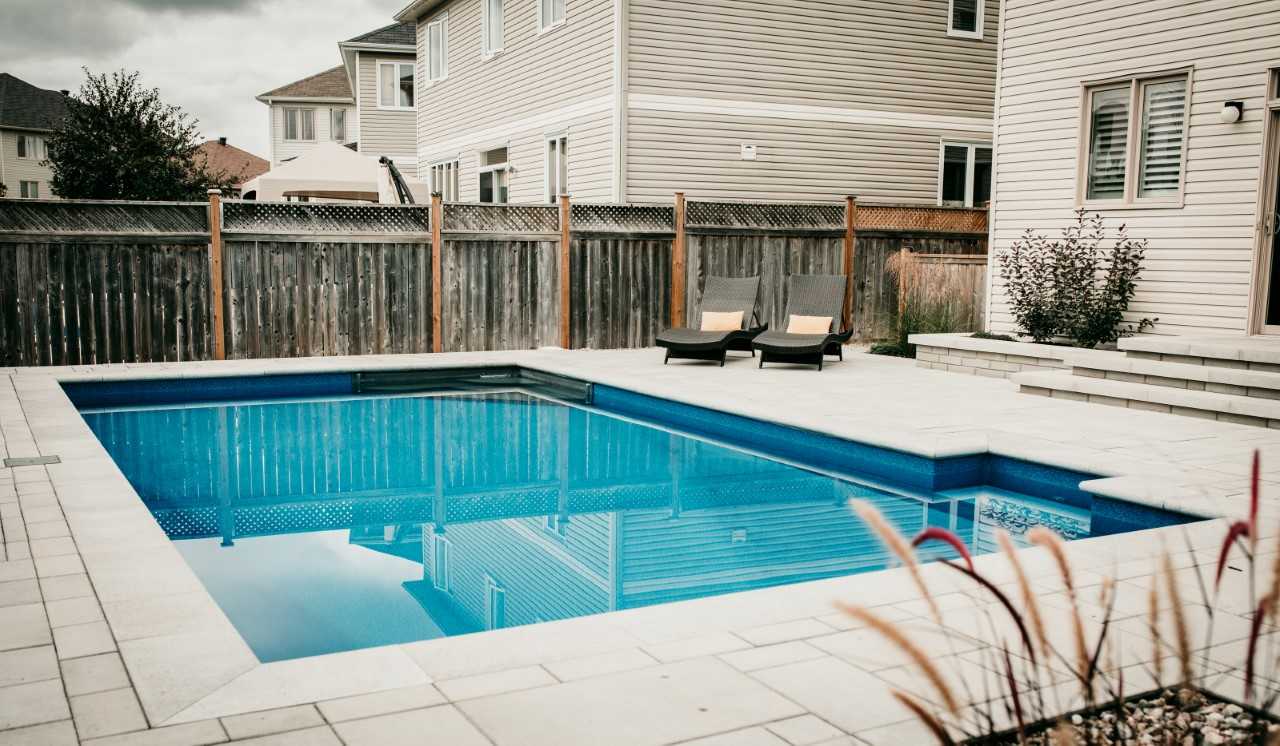 Pool Builders was absolutely fantastic to deal with, and we would highly recommend them for any pool construction project. During the design and estimate phase, Dominic was extremely patient with our questions, and quite accommodating as we tried to settle on a final size and design. There were no pushy sales tactics, just thorough details and information to help in our decision making. During the construction phase, the entire team were polite, professional, and most importantly the quality of work was excellent. Bob and the team went well above and beyond to ensure we ended up with exactly what we wanted for the finished product. Further, the after-sales support has been outstanding as well. Shanelle has been quick to respond with answers to all of our questions during our first summer. We couldn't be happier with the result!!
— Mark & Rachel O'Neil, Stittsville 2017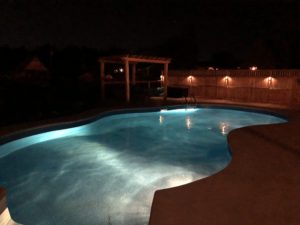 After shopping around for a pool company we decided on Pool Builders. The thought of working with a family based company as well as the price is what swayed our decision. A year later I can confidently say that we do not regret it. From Dominic, our first point of contact, to every crew member who was at our property we have been nothing but satisfied. The issues we had with an uneven backyard were solved in a creative and esthetically pleasing manner. The problem that arose when they started digging was taken care of quickly. Pool Builders professionalism and workmanship is top notch and I have not hesitated to recommend them to anyone who has asked.
— Anouschka & Adam Kingsley, Greely 2017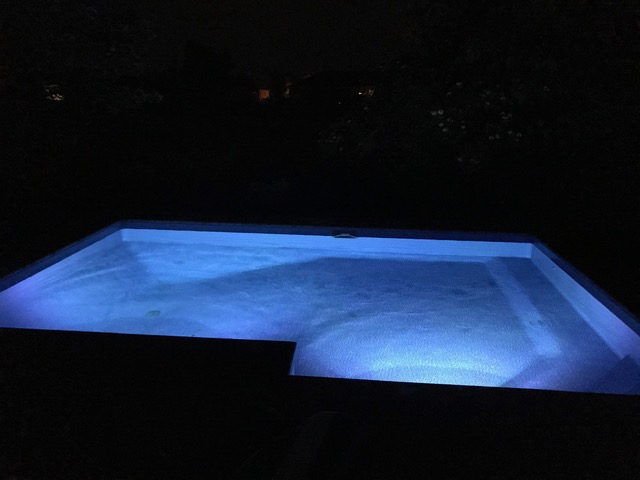 We want to thank Pool Builders for such a beautiful set up. A professional team and always available for questions and support. We are so pleased with our pool and enjoyed it from May to October this year.
— Richard, Stonebridge 2017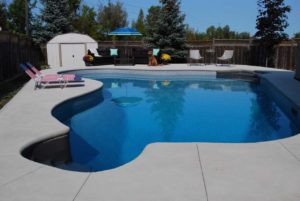 When we started the journey of creating our own backyard vacation spot Pool Builders was the only company that came highly recommend to us by multiple people. These families raved about the customer service, professionalism, support and skill level of this team and we were not disappointed. From the initial consultation to the final stage of "Pool School" and everything in between we knew we had made the right choice. We cannot say enough good things about the quality of work and the support that was given to us throughout this process. This is a family run business and that is how we felt they treated us, like they were building this pool for a member of their own family. Thank you Pool Builders for the beautiful vacation spot that you created for our family!
— Erin & Scott Gertsman, Stittsville 2017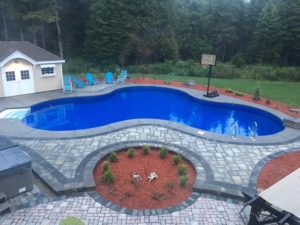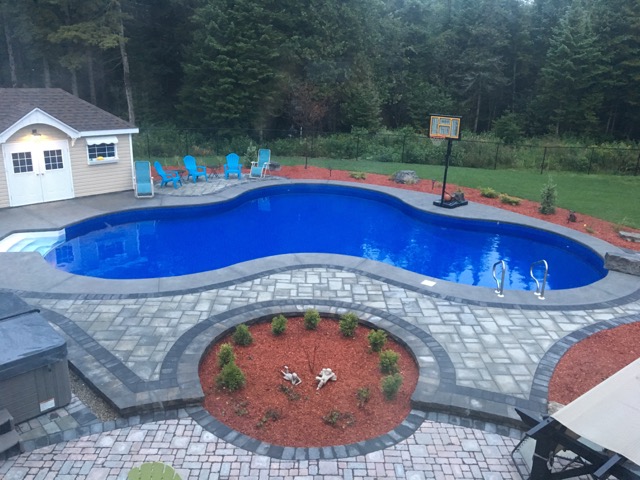 Our Backyard Pool Oasis is finally complete! It has turned out exactly the way we had dreamed & hoped it would - Thanks to Pool Builders!! From the start, meeting with Bob discussing and costing out our project, it was clear you are the best experts in pool construction in Ottawa! We met with several companies, and no other company gave us the same level of confidence that we trusted our investment with the best and most cost effective professionals in the field. You helped us connect with reputable and experienced trades to help us finish the project with professional landscaping, fencing, natural gas fitter and electrician. Everything went as smooth as it possibly could for such a large backyard project thanks to your excellent project management and customer service. We were always kept informed of progress and next steps throughout construction, as well as, post project service with pool care instruction and maintenance, we are absolutely thrilled with the result and have Pool Builders to thank for helping us make it happen! You guys are the best!
— Nadine & Rob Redman, Carp 2017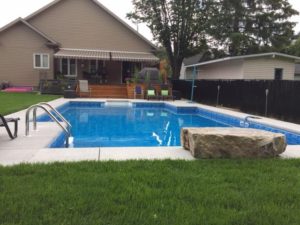 We can't say enough about our experience with Pool Builders, start to finish! Minny arrived for our initial consultation well prepared and very patient in answering our many questions. Shanelle, the project manager was so pleasant and professional to deal with. A few hiccups along the way, but all were dealt with immediately, to our satisfaction. The installation crew worked extremely hard - on a few occasions there were 10+ men working on our pool to complete the task at hand - all knew their roles and worked together well. Dominic's pool school provided us with enough knowledge to keep it running all season!
Pool was installed on budget, on scope and within timelines (amazing given the amount of rain this season).
We would not hesitate to recommend Pool Builders, a family run business, who excel in customer service.
Thank you!
— Randy & Linda, Stittsville 2017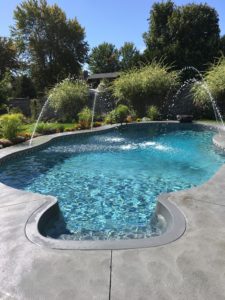 Dear Pool Builders,
Thank you so much for our beautiful pool! We have received so many compliments and are extremely happy with the entire experience! From the the initial meetings to the final delivery Pool Builders were always very understanding and helpful guiding us through the process as first time pool owners. Thank you to Bob, Shanelle, Benji, Dominic, and the entire Pool Builders team for making our dreams a reality!
Sincerely
Mike and Susan
— Mike & Susan, Richmond 2017

We had a fantastic experience with Pool Builders. They had great ideas; all team members were very professional and kept to the promised schedule. Would highly recommend their services.
— Sue, Stittsville 2017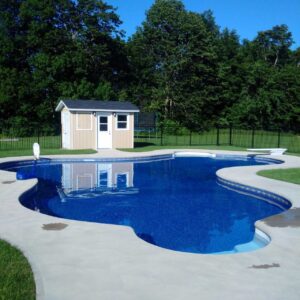 Just sending you a quick note to thank Shanelle, Bob and the Pool Builders team for the excellent job installing our pool. We knew right from the beginning that we were dealing with professionals. The crew was quick, respectful of our home and cleaned up entirely after their work. From the personalized selection of the pool to the many details that are involved installing a pool, Pool Builders were there for us at every step of the way. They took the time to listen to our plans and provided us with the right options. Because they deliver what they promise we would highly recommend Pool Builders without a hesitation. Thank you and great job Pool Builders.
— Heather and Doug Wright, Stittsville 2017

Hi Shanelle,
Just wanted to say a sincere thanks to you and your family for the excellent job you did on the pool. We just love it! Greatly appreciated!
Dominic is an excellent teacher, so we at least have a novice understanding of how to run the pool.
Also, if you need a referral for any of your clients, please use us.
Sincerely,
Anthony
— Julie & Anthony, Nepean 2017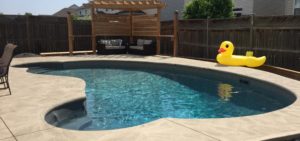 Hi Shanelle,
I just wanted to send you a quick email to say thank you for all your help/guidance through the pool process. We are so incredibly happy with the final product and have already got a ton of great use out of it. You guys were fantastic to work with!
Mandy
— Mandy & Mike, Stittsville 2017
We are thrilled with our new pool and service by Pool Builders. It has transformed our backyard into a vacation resort, a place for relaxation and fun.
Shanelle provided top notch advice and guidance and most importantly, she was patient!
The entire project was kept on track, despite the unusual wet weather we experienced this spring/summer. This is a testament to their experience and expertise.
Without hesitation, we have recommended Pool Builders to friends, family and colleagues.
Thank you for providing us with a 'WOW' result and customer experience. We look forward to the years ahead enjoying the pool.
— Adam and Kim, Stittsville 2017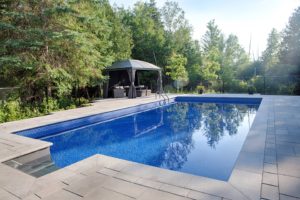 Hi Shanelle,
I just wanted to send a quick email to thank you for everything. We are so happy with the pool! Everything went so smoothly, and we couldn't be happier with the job that you guys did. We will definitely be recommending pool builders to anyone who asks!!
It's really been a great experience all around.
Thanks again!!
Megan
— Megan & Mike, Stittsville 2017

Thank you so much to Pool Builders for their professional and friendly service while building and installing our pool this past spring. We love the finished product and have enjoyed it all summer! It was so great how well Pool Builders, with Shanelle as our main point of contact, communicated with our landscapers. It made the process low stress and helped when there were weather delays. Thanks so much for our wonderful Pool!
— Michelle S and family, Ottawa 2017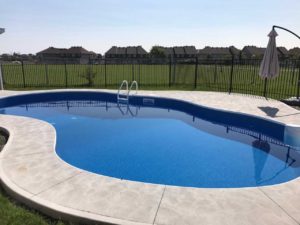 What a great experience we had with Pool Builders! We can't say enough about how wonderful your staff has made this whole process. Shanelle is so organized and answered all our questions, even if it was a few times a day! She was quick to respond and always responded within the hour. Now that's customer service at its best! The professionalism in the whole team when they came out was incredible. Not only were they respectful of our property, the crew worked so hard to ensure the job was complete. We knew exactly what was happening each day and we weren't left in the dark. Dominic was a great teacher, we felt comfortable running our pool after our "pool school". We would like to thank the whole crew for making our backyard oasis a reality. If you need any referrals, please include us because we have no problems discussing our positive experience.
— Tania and Gino, Barrhaven 2017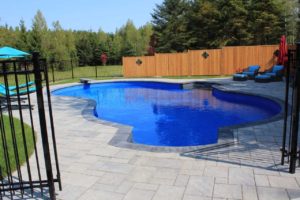 I cannot say enough good things about Pool Builders! They have made my family's dream come true by installing our amazing in ground pool! From start to finish, they have been extremely professional, knowledgeable, easy to deal with and quite frankly, amazing!!! I would definitely recommend Pool builders to make your dream come true as well!
— Sharon, Kemptville 2017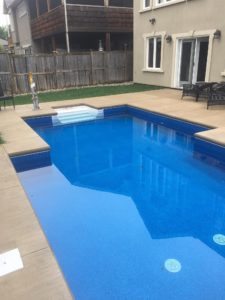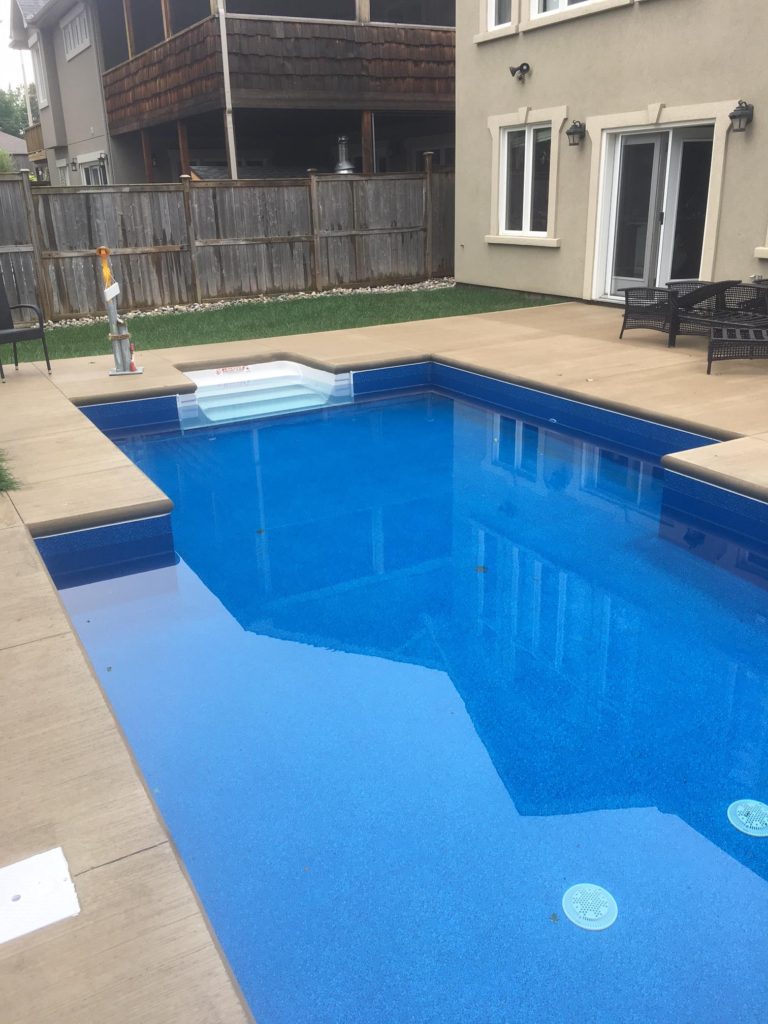 We are very happy to have chosen Pool Builders for our backyard project.
The property posed a couple of obstacles, but the Pool Builders team was helpful, diligent and professional during each construction phase.
We are enjoying and will enjoy this new oasis, thanks to the nice folks at Pool Builders.
— Mike and Beverley, Stittsville 2017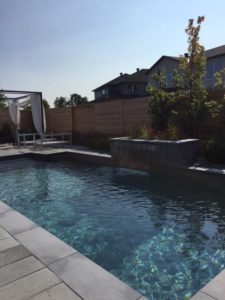 Thank you very much for the beautiful pool and the attention to details.
Pool Builders were on time for building our pool and always were attentive to any questions we had.
— Diane & Bob, Richmond 2017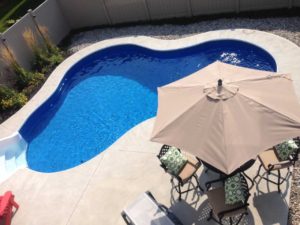 Hello future Pool Builders clients.
The following statements about this company are true to the
best of my knowledge and I have expressed this directly to the
organization in the past.
Poolbuilders pricing is competitive and fair. I collected 4 quotes
for my project and poolbuilders was competitively priced in that
sample.
Poolbuilders is a family run business. I met the father, 2 daughters
and 3 sons throughout my design and build. Why does this matter?
Service and understanding the client is why. Furthermore, this allows
for very effective communication in all phases of your project.
Poolbuilders have outstanding customer communication processes.
Presale, design, construction, operation, maintenance and post sale-
all of these milestones are communicated and you will feel like you
have the staff on a string for any question you have. This is a very
re-assuring part of selecting poolbuilders. This is often a large
expense, with messy construction and for new pool owners, an uncertain
time. Poolbuilders will tell you exactly what to expect and when. No
surprises. They also take calls and answer emails within 24 hrs. I
found their service level to be about as much as you can get and more
than satisfactory for this industry.
We love our pool. I still feel connected to this company and they
have been patient, polite and helpful even 2 seasons later.
Someday I will likely move to a new home. I will be having a pool
built wherever I go and I will be exclusively using poolbuilders for
that job.
I'd like to put something to balance this review, something perhaps
negative or constructive criticism. I cannot think of anything to
advise or warn a future customer about.
I hope you have found this review useful and informative.
— Aaron, Kanata 2016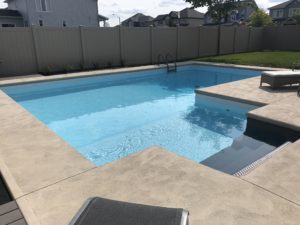 We met with 6 different companies when planning our pool installation, and Pool Builders was the obvious choice for us! Not only were they the best price, but they were helpful, professional, and informative from the start. Shanelle and Dominic were a pleasure to work with throughout the installation process, and we couldn't be happier with the final result! Thank you Pool Builders!
— Todd and Julie, Richmond 2016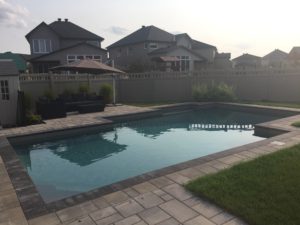 We bought our forever-home a few years ago and one of the main criteria on our list was a big backyard because we knew we wanted to get a pool for our family. When the time came we knew we had to pick the right company to make sure it was done perfectly and so began our interviewing process. We met with 4 pool companies and I can honestly say that as soon as I met Josée I knew we were going to build with Pool Builders. She listened to our ideas and was able to answer all our questions during our meeting, working out every little detail from pricing and timeline to concept and design. She stayed in touch with us as we approached our "dig date" and then Bob and the crew took over. It was refreshing to see Bob and all the workers always very pleasant and accommodating as well as cleaning up the site after every work day. Shanelle coordinated all of the trades we needed before the "dig date" and she was always available for us when we had questions about our pool. She continues to be there for any concerns we have and she always takes our call, you can tell she takes customer service very seriously! After our pool was finished it was time for Pool School with Dominic which was great because I had never owned a pool. He explained every piece of equipment and how the system worked, taking his time to answer my million questions. He also makes awesome videos on the website so if you forget something you can simply go online and get the answer. We even get to see Benji for pool opening and pool closing every year and he always has great tips for us to make the system run smoothly and make sure we avoid any trouble. All in all, this family run business is committed to making sure you get exactly what you want and will be with you from the first time you call them to years after you have built your dream pool. Thanks for making our backyard perfect and creating tons of summer memories!
— The Parenteau Family, Stittsville 2016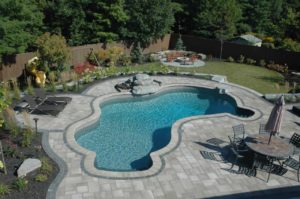 We were very pleased with the installation of our pool from Pool Builders. We were put in touch with them via Thunderbolt Landscaping as we had contracted them to do our backyard. From our initial meeting onsite with Bob, we felt very comfortable with the knowledge and service we were getting. Bob handled the dig expertly and managed to navigate through the landscape of our property with ease. Justin was onsite with us for the installation and his crew was amazing. Our interactions with Shanelle were excellent. She was always in contact with us through the whole process to keep us up to date on the schedule, any pricing questions we had or to answer anything we wanted to know as we started to make choices along the way. We have been enjoying our pool this season and are extremely happy with our choice of Pool Builders. Our experience was excellent!
— Shillee & David, Kanata 2016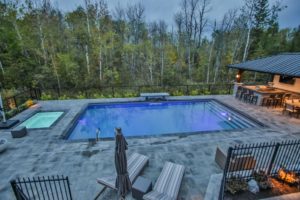 Working with Pool Builders was a fantastic experience! I would have no hesitation in recommending Pool Builders to anyone looking for the pool of their dreams.
— Paul, Stittsville 2016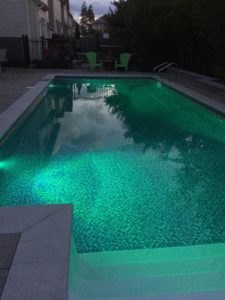 Notre expérience avec Pool Builders
Nous sommes en mesure de comparer notre expérience avec une autre entreprise, que je ne nommerai pas, car c'est notre 2e maison avec une piscine creusée.
Je peux juste confirmer à quel point notre expérience fût agréable. Dès notre 1ere rencontre on a ressenti le sentiment de fierté et d'esprit de famille qui règne au sein de l'entreprise.
Nous avons délégué la coordination du projet à Pool Builders. Les délais ont été respectés, les coût ($) ont été respectés. Satisfaction totale avec les autres membres proposé par Pool Builder et qui ont participé au projet comme électriciens, clôture et interlocks.
Pas de mauvaises surprises et tout ça dans un temps records.
Je recommande Pool Builders à tout le monde sans aucune hésitation!
Bravo et merci à vous tous!
— Helène et Alain, Stittsville 2016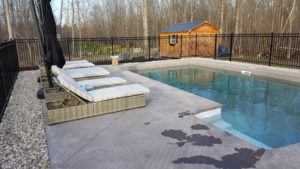 Pool builders did an exceptional job from start to finish. I was impressed at how quick that everything was and the open communication when I had any questions. I would highly recommend them to anyone I know. We just LOVE our pool from Pool Builders!
— George, Carp 2016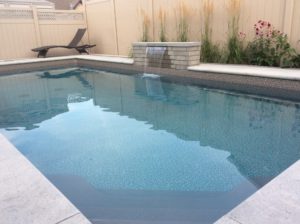 We are really happy with our new pool. We enjoy every minute of it. The whole experience was great, every step went smoothly with Shanelle's help. We couldn't pick a better company for our beautiful project. Thank you Pool Builders!
— Marie-Claude and Éric, Stittsville 2016
The first time we met with Josée, we KNEW that Pool Builders was the right company to build our dream pool. She was so knowledgeable, friendly, and professional. The rest of the Pool Builders team was just as awesome as she was! The project was managed so well and the team did a stellar job of designing and installing our pool and getting us ready for the summer fun. We've recommended PB so many times to others...in fact, our neighbours next door just had them install their own dream pool a few weeks ago!
— Eric & Kristin, Stittsville 2016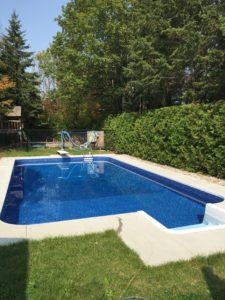 We had a fantastic experience with Pool Builders, they were professional from beginning to end and delivered exactly what was expected. They had several skilled teams of people who would come in and out as the job progressed. It seemed like everyone knew what they were doing even in large swarms of activity. We would highly recommend Pool Builders to anyone and if we ever move we would absolutely use them again.
— Ian, Stittsville 2016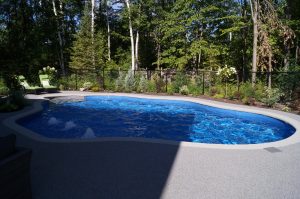 You guys have really gone above and beyond to ensure that everything is made right!! I'll thank you and Bob in person for your professionalism but I want you to know that it is very much appreciated as we bring this all to a close. We're very happy with everything and will always be a strong reference for you in the future should the need arise.
Thanks again.
— Jeff, Carp 2016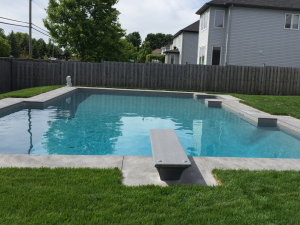 Just wanted to send a quick email to let you know how pleased we are with the pool! From our initial meeting with Josee last summer to her replying to our email this winter while on her honeymoon, we knew we had chosen the right company to build our pool! Fast forward to spring and pool build start, you were so great with guiding us through the process all while answering any questions we had along the way. We really appreciate all the time taken to explain things by your dad Bob and all your brothers, they were so helpful often stopping to answer questions while working on the pool. We've ended up with the pool of our dreams and nothing but fabulous things to say about Pool Builders. Keep up the great work guys! Thanks so much.
— Chris & Shawna, Richmond 2016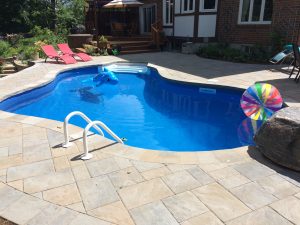 I just wanted to send a quick note to say thank-you for everything you have done to help us to make our dream backyard happen. You and the whole team have been truly amazing! We actually got in the pool tonight (temp was 55 degrees) so it was a bit chilly but hey, I'm from Sudbury so warmer than most lakes this times of year!)
— The Ayres, Stittsville 2016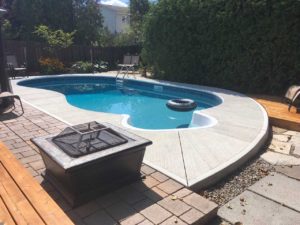 First wanted to thank you all for the hard work getting the job done (especially in the heat) - overall we're very impressed with Pool Builders and would definitely recommend you to others.
We were very pleased with how you handled our concerns during the installation. Also, having you available as a point of contact made all the difference. Comments from our friends that have had pools built that had issues with communications made us realize how well your company is organized.
— Mike Cain, Ottawa 2016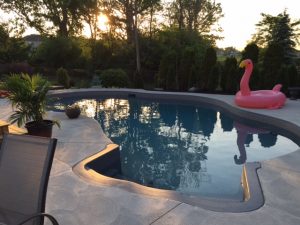 Bob, Josee, Shanelle and Team,
Guys, I just want to thank you for the amazing job you did on our pool install. From the very first contact I was confident I was dealing with a professional company. There are so many horror stories out there about poor pool contractors. I am very happy to say I was not one of them. Your professionalism from the first phone call was excellent. Your company provided an on time and thorough quote as promised and you delivered on what you committed. Your team was flexible and allowed for adjustments along the way. The project was clearly laid out on a timeline and you stuck to it, the next steps were always communicated and you were always available and timely in your responses. The overall value your company brought to this project was unbeatable.
Your team provided solid advice throughout the project and your capabilities to cover various requests kept this as a 'one stop shop' for just about everything. Pool Builders is truly a family business and each day there was always someone from the family onsite and responsible for the work at hand. I want to thank you for your patience and guidance as I am sure I literally had a 'million' questions, but you handled them all well. Your team was also respectful of our property and worked to minimize any unnecessary damage to surroundings.
Our family is truly enjoying our new pool and we are confident this was a great investment and we chose the right company to complete the job for us.
Many thanks.
— The Mcgees, Barrhaven 2015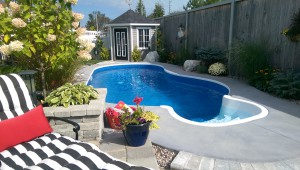 Hi Bob,
Both Shelley and I would like to take this his opportunity to extend our gratitude for the outstanding, professional and dedicated work you and your family as well as your staff did in building our pool. The attention to detail and care exercised was beyond our expectations.
In as much as you and your staff were subject to a backyard that was almost complete, your team rose to the occasion from the design stage, right through to the end of construction process. Of particular note we would like to personally thank:Josée for her creativity in developing plans that produced such great results; Shanelle for managing the building process with dexterity, diligence and determination, ensuring that all timelines were met as planned: you, your sons and staff for going beyond the call of duty, in providing options and solutions to the challenges of the limited space that you had to work within, and of course for delivering that crowning touch to our backyard oasis.
In short there are no words powerful enough to describe how satisfied, happy and thrilled we are with our pool which will bring us and our family years of enjoyment.
Please feel free to suggest prospective buyers to communicate with us as we enjoy spreading the good word regarding the outstanding pools you build.
Cheers and again a BIG THANK YOU to Pool Builders for quality and personalized service.
— Shelley and André LeVasseur, Stittsville 2015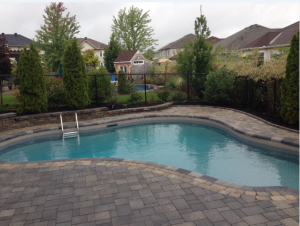 This summer we've decided to install our first inground pool! Thanks to Pool Builders the experience we've had during this process was wonderful. Outstanding service, very professional and experienced team, exceptional customer care. Thank you Pool Builders, it was a great pleasure dealing with you.
— Teodora, Stittsville 2015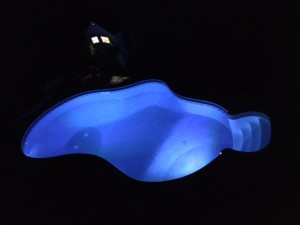 My husband and I were so impressed and happy with Pool Builders. They kept to their schedule, they kept us informed every step of the way.
They have a very competent team of people very easy to deal with. We would definitely recommend Pool Builders to our friends and family.
— M&M Dennis, Stittsville 2015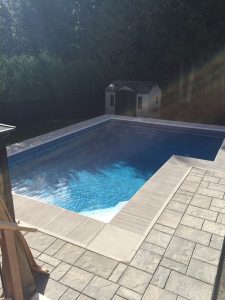 My husband Rob and I had dreamed of a pool for a long time. The day had finally come and the stars aligned for us. We did our research and talked to a few companies. We went with Pool Builders and we couldn't be happier. We first met with Josee in early summer. She was delightful and answered all of our questions. She even mapped out the pool for us in the backyard which is a big deal for someone visual like me. She was never pushy and geared the pool to our needs. Soon Bob and the crew came with all of the big machines and equipment. This was a very big day for my kids! The team was great and entertained the kids daily! What started as a small hole, soon took shape and became a pool. Shanelle was so wonderful holding our hand every step of the way. She was prompt at getting back to us and answering all of our many questions always with a big smile! We ran into an issue with pool depth. Bob was very calm and helped find a solution we were very happy with.
All in all, I highly recommend Pool Builders to help create your dream pool. Thank you all for everything! We can hardly wait to jump back in!
— Michelle & Rob, Stittsville 2015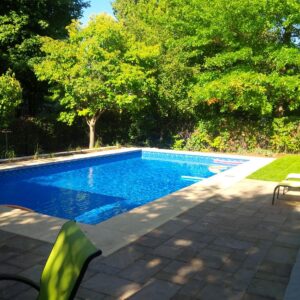 I'd like to take this opportunity to say thank you to everyone at Pool Builders for a fantastic experience and making a lifelong dream of being a pool owner come true! From our first conversation with Josée to post sales service with Shanelle, and every point in between, the customer service was remarkable. Communication, professionalism and patience were cornerstones of the customer service experience. We were always able to reach someone the same day a question arose, and all of our questions were answered with patience.
Many thanks for the fantastic experience that equals our beautiful new backyard oasis.
— Cara & Parri, Stittsville 2015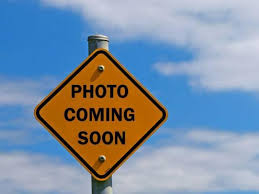 I contacted Pool Builders sometime last April 2015, a very pleasant lady came to the house, she was completely knowledgeable about what we were thinking of doing, by the end of the appointment she had a detailed report as to the cost of what we wanted to do and with her help as to where to put the pool, the shape and size, she helped with all the small details, when she left we were completely satisfied that we had made the right choice of selecting Pool Builders to put in our pool, we were never pressured into purchasing anything that we did not want. On time Pool Builders showed up and started the excavation, and much to our surprise the pool was completed on time, no delays what so ever. I have never ever dealt with such professional people from the owner, family and support staff, I would recommend them without hesitation to anyone wishing to put a pool in, our backyard in my opinion looks like a magazine, words cannot express how pleased we are with Pool Builders.
— Maureen And Bill Pim, Carp 2015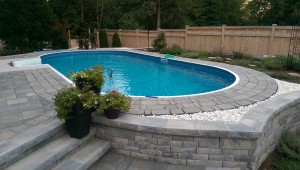 I highly recommend Pool Builders for your pool. From their prompt responses to their knowledgeable staff they get the job done, Well! Thank you to the team at Pool Builders my backyard oasis is fabulous!
— Mari, Kanata 2014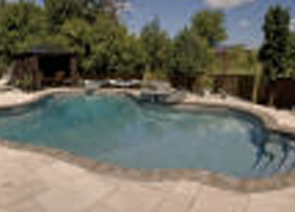 After watching most of our neighbours choose Pool Builders to install their pools, we were certain that we would have a great final product, and they did not disappoint. It was so much fun working with Josee to design a pool to fit our angled and steeply sloped yard; we got our perfectly shaped pool that looks so good it is just like it has always been there. A special thanks to the brothers and fellow installers who did a great job under the extremely hot conditions. We have recommended Pool Builders to many friends and would use them again in a heartbeat.
— Andrew and Lynda Milliner, Stittsville 2012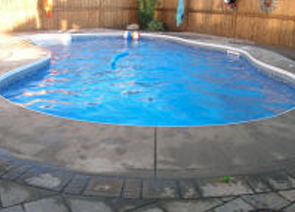 I must admit I didn't think it would have been done in time for Canada Day, but the amount of work that everyone did to get this pool done in 7 days was outstanding. We were amazed every day when we came rushing home to see what stage it was at! Everyone was very professional and extremely helpful, especially you with the dozens of emails I sent you and I had a reply within minutes. This made our experience so joyful. Once again, we really appreciate everything Pool Builders has done for us and we would recommend you guys to everyone.
— Jennifer and Todd Reid, Stittsville 2012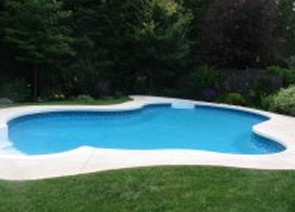 Our experience with Bob and his team was very satisfying. The team demonstrated pride, devotion, expertise and commitment in their work. They were very respectful around the work site, even though they worked long hours in very hot weather. The end result was a very beautiful pool which we have enjoyed for the past 4 years without any complications. We love it and we were very happy that we chose Bob to build our backyard oasis.
— Anna, Stittsville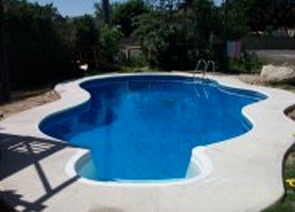 From the minute we called Pool Builders, we knew we were dealing with professionals. Bob and his team were awesome! They did an amazing job on our pool. Not only do we recommend them to everyone we meet, we also love showing off our pool to potential clients. Pool Builders are #1 in our book.
— Frank and Mireille, Nepean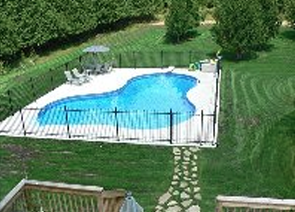 We have now had our pool for over a year and love it! Bob and Pool Builders did a great job at a great price. Everything they said they would do, they did! This was our first experience installing a pool, and we are so glad we went with Pool Builders. Great workmanship—you can tell Bob and his crew have been doing this for years! We had our pool installed in the fall, and in the spring Bob came over to open the pool for us and to get it ready for the summer. If we ever have a question about the pool, maintenance, etc., they always make themselves available and are keen to help. Basically, we got a great deal, excellent workmanship and very helpful after-sales service from Pool Builders and would recommend them to anyone installing a new pool!
— Kevin and Rebecca, Ashton